From fully rotatable heads to streamlined silhouettes, these fixtures combine graceful design with efficient light output, making them worthy additions to office workstations.
Pixo, Pablo
Equal parts utilitarian and decorative, Pablo's Pixo LED tasklight features a slender arm and head that each can be rotated 360 degrees. The dimmable fixture, operable by a full-range optical switch, offers 3000K at a CRI of 90 while providing 285 lumens at 50 lumens per watt. A steel base is fitted with a USB port for charging mobile devices. Fully extended, the luminaire arm measures 16.5" tall and can be titled 180 degrees.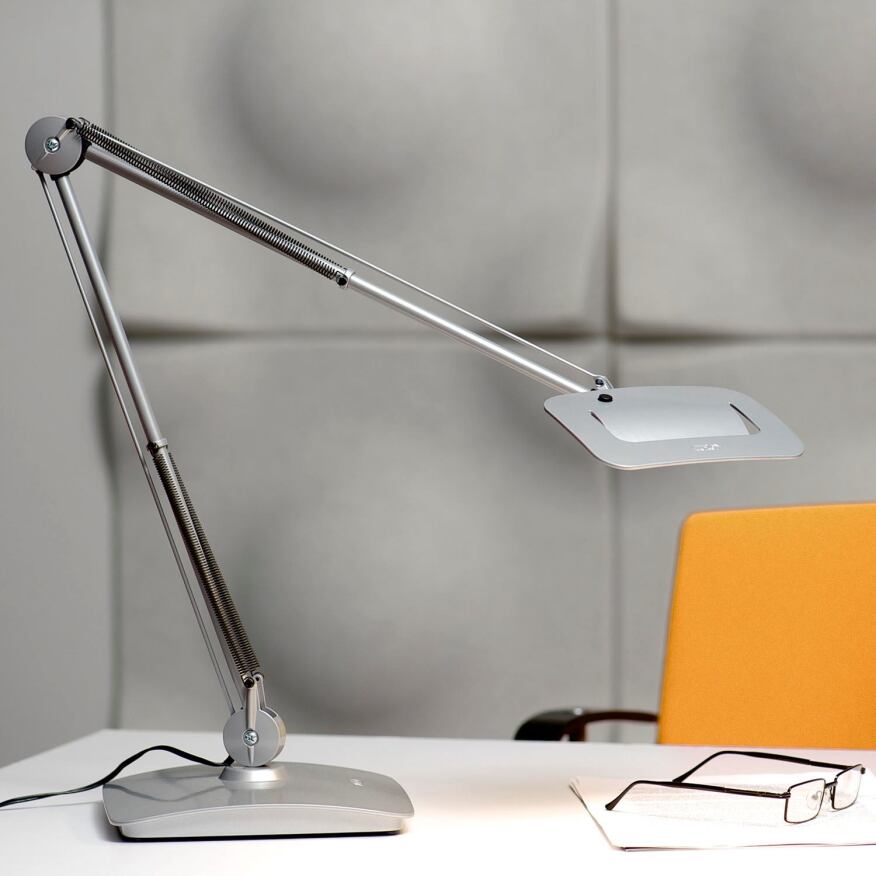 Split, Luxo
Designed to illuminate large worktops, designer Aleksander Borgenhov's Split tasklight for Luxo features a slender articulating arm. The fixture is lamped with two, dimmable 6W LEDs, each of which is positioned at a 30-degree angle for wide light distribution while allowing the lamp's head to remain parallel to the surface. An integrated motion sensor turns the luminaire off after 15 minutes of detected inactivity.
Lady 7, Koncept
The thin profile of Koncept's Lady7 tasklight is achieved through the use of ultra-efficient LEDs that do not require typical heat sink fins. The 6W fixture offers variable light in a color temperature range from 2700K to 5000K and is dimmable. A built-in USB port allows the fixture to double as a charging station. The luminaire received a 2014 Japanese Good Design Award, among other designations.
Hemmingway LED Swing Arm, WAC Lighting
WAC Lighting's Hemmingway LED Swing Arm 6.5W luminaire is suited for bedside use, providing 3000K with a CRI of 90 and delivers 325 lumens. The fixture includes an integral driver and is dimmable down to 10 percent. It meets the energy-efficiency requirements of California's Title 24. It is offered in antique nickel, burnished brass, rubbed bronze, and polished nickel finishes.