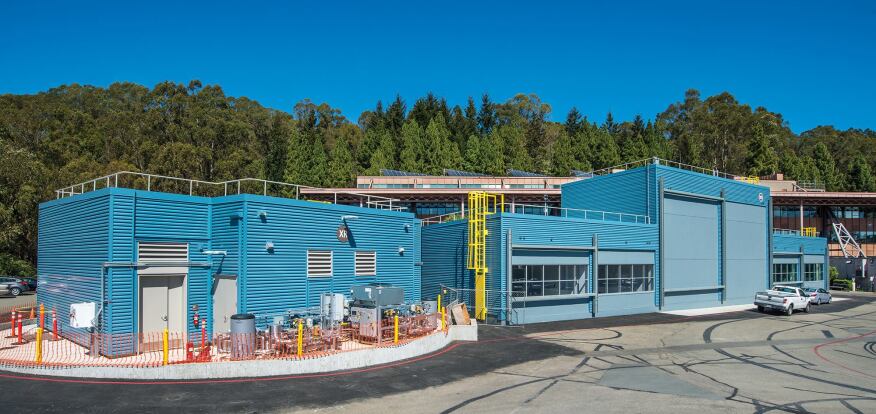 After about four years of planning and construction, the Facility for Low Energy Experiments in Buildings (FLEXLAB) at the Lawrence Berkeley National Laboratory (LBNL) will be substantially complete this month and ready for institutions, manufacturers, and owners looking to develop and test anything from individual products to whole-building environments. Perched atop the Bay Area at LBNL's 200-acre campus that sits on the idyllic hills that overlook the University of California, Berkeley, and the San Francisco Bay beyond, FLEXLAB comprises three interior testbeds in Building 90, home of LBNL's Environmental Energy Technologies Division, and four exterior testbeds that LBNL designed in collaboration with Stantec.
Building owners increasingly want validation that high-performance building systems work. Conventionally, it takes several months for a new office or laboratory environment to come online as planned. In the meantime, "you've got expensive staff members who are suffering through that [adjustment and tweaking] process," says Stephen Selkowitz, FLEXLAB's principal investigator, senior adviser for building science at LBNL, and leader of the Windows and Envelope Materials Group in LBNL's Building Technology and Urban Systems department.
For more than two decades, LBNL has overseen field testing and full-scale mock-ups of nascent, but unproven, technologies on a case-by-case basis at the request of building owners and large tenants. In 2009, LBNL responded to a request for proposal from the U.S. Department of Energy (DOE) seeking projects that would conduct laboratory and field testing "to advance the state of the art and integrated systems performance," Selkowitz says.
The call was right up LBNL's alley. "We put our 20 years of experience … [to] design a facility that … would overcome most of the limitations of the other facilities that we've worked with over [those] 20 years," Selkowitz says. With $15.9 million in DOE funding, LBNL developed FLEXLAB, a facility in which infinite combinations of plug-and-play building components can physically and virtually simulate nearly any user-specified environment.
Need to identify optimal locations for occupancy sensors in an office with zoned controls? The 3,000-square-foot-occupied lighting and plug load testbed may be your best bet. Assessing an algorithm for activating electrochromic glazing in response to solar heat gain? FLEXLAB's virtual design testbed and controls and hardware testbed can do the trick.
The four freestanding exterior testbeds perhaps best exemplify the new facility's versatility. Totaling 5,600 square feet, these adiabatic testbeds can be outfitted with interchangeable components. Nearly everything, from glazing units to shading devices, and from luminaires to VAV boxes, can be swapped out or relocated—from the curtainwall frame, raised access flooring, and ceiling grid.
Three of these four testbeds are approximately 40 feet by 30 feet. The fourth offers a 25-foot floor-to-ceiling height and a 25-foot-square floor plan for testing high-bay luminaires or big-box conditions. Users can demarcate lighting and thermal zones within two cells housed in each testbed.
Since a building can be oriented in any direction, FLEXLAB features the world's first revolving testbed. Sitting on a building-scale turntable, the testbed can rotate 270 degrees from southeast to northeast. (A neighboring testbed negates the need to have it face east.) It can also rotate each minute to track the sun for dynamic tests. The remaining three exterior testbeds face south to receive the most variability in lighting conditions.

With the surfeit of groundbreaking infrastructure, one can forget that reliable data underlies the testbeds' raisons d'être. The testbeds are outfitted with sophisticated data acquisition and control systems and instrumentation capable of metering power, lighting, glare, occupancy, thermal loads, air supply, and more. Information streams from the testbeds into a bank of computers and servers.
Currently, LBNL is seeking partnerships with organizations looking to test new technologies, prototype design environments, or gauge occupant visual or thermal comfort. Selkowitz expects to receive proposals for experiments that can run from a couple days upwards to a year or more. The cost to use the facility depends on several factors, including the anticipated LBNL staff time and resources, test duration, and outside funding resources that may underwrite the research.
Webcor Builders, based in San Mateo, Calif., is FLEXLAB's first private-sector project. Together, Webcor and LBNL will mock up and pre-commission an office space in a 250,000-square-foot building for Genentech located south of San Francisco. The building is now under construction, but FLEXLAB's rotating testbed will be used to test "an innovative set of integrated façade, shading, daylighting, lighting, and HVAC systems," Selkowitz says.
Generally speaking, FLEXLAB is open for business to virtually anyone looking to advance energy-efficient building technologies. "Because we're a public agency and we want to transform the whole industry," Selkowitz says, "we want to pick projects that'll have the greatest impact."