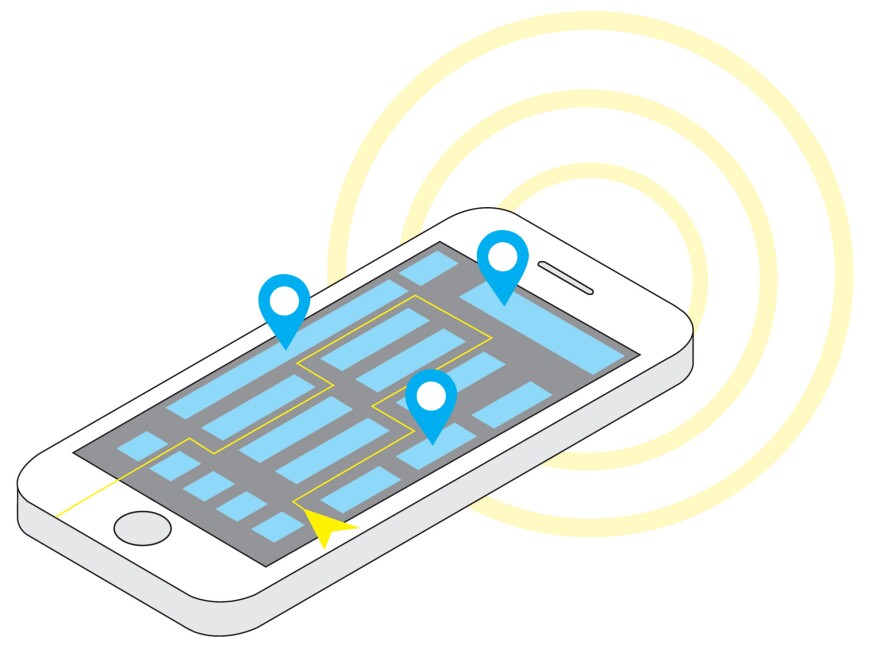 In 2015, shoppers at a Carrefour supermarket in Lille, France, became some of the first in the world to try out a new retail experience: With the assistance of their smartphones and technology embedded in the 800 linear LED fixtures overhead, they were directed to the exact location of the products on their list. The technology that enables this experience to work—visible light communication (VLC)—is one of the latest evolutions in smart lighting, in this case offering retailers improved customer data collection, and shoppers a highly customized in-store retail experience.
So far, only a few lighting manufacturers are exploring VLC. Philips, which piloted the technology with Carrefour, has been working on VLC-enabled LED luminaires for the past decade, and it holds one of the foundational patents for the technology. The company is joined by other lighting manufacturers including Current, Powered by GE and Acuity Brands in their collective efforts to design luminaires that incorporate VLC technology. With the near ubiquity of smartphones and the rise of online retailers as a threat to brick-and-mortar stores, technologies that can help retailers to better reach the consumer at the traditional point of sale are beginning to enter the marketplace.

The Potential for VLC
VLC technology relies on LEDs' programmability. While fluorescent, incandescent, and halogen lamps deliver a steady stream of light, LEDs can be modulated to flicker at specific intervals. Although imperceptible to the human eye, the light creates a unique pattern when turning on and off. That sequence is captured by customers' smartphone image sensors, and with help from a companion app the data is turned into precise location information—essentially, an indoor GPS.
Because GPS pinpoints users' locations with satellites, the technology that powers smartphone maps does not typically work indoors. For years, technologists have tried to come up with a solution, testing Wi-Fi, ultrasound, and Bluetooth low energy (LE). Prior to the emergence of VLC, Bluetooth LE was the prevailing choice, thanks to its relative ease of installation. While Bluetooth LE works regardless of where the smartphone is on the user's person, VLC requires the device to be uncovered and oriented with its screen-side camera facing the ceiling. However, Bluetooth LE is less precise than VLC, with an accuracy of a couple of meters, compared to VLC's 10 centimeters (3.93 inches).
It's that level of accuracy that brick-and-mortar retailers are after. For example, if a customer comes into the store to buy a loaf of bread, they could take their smartphone, orient its screen-side camera toward the ceiling, and open up the retailer's shopping app that they had previously downloaded. The apps typically incorporate a shopping list function, so the user can create a list of items that they intend to purchase based on the store's inventory. The app then turns that list into a personalized map, drawing a route from the exact location of one product to another, and pushing coupons or other notifications along the way. So, the customer tells the app that they are looking for a loaf bread and it takes them there.
With VLC, location information is transmitted via the strobing of the LEDs, which is imperceptible to the human eye, while further alerts, promotions, and product information is delivered over Wi-Fi or the phone's cellular network service. The level of data that can be collected varies. For example, Acuity Brands, which sources its VLC technology from Qualcomm's Lumicast for its ByteLight indoor positioning technology, offers such services as heat maps and data analysis to identify merchandising hotspots. The technology is equally usefully for back-of-house operations, providing product tracking in stockrooms, and allowing workers to locate a customer in the store who has used the app to indicate that they need assistance.
Understanding the Challenges
While retail is ahead of other industries in adopting many LED systems, they're holding back on VLC. One contributing factor is that the use cases for retailers gathering consumer data and pushing out coupons and other notifications are few—a consequence of their hesitancy to install the systems in the first place. Another, perhaps bigger, challenge stems from LEDs' inherent benefit: a long life cycle. "We tell retailers that the LEDs they put in the ceiling are going to last for 10 to 15 years," says Maulin Patel, general manager of intelligent enterprises at Current, Powered by GE. "You can put in an LED with no bells and whistles, and wait for another 15 years until you can upgrade it and make it smarter. Or, you can go with smart LEDs [from the start]." With a new technology such as VLC, Patel says, many retailers would rather watch their competitors work out the kinks than be the pioneers with this new platform.
Although lighting rep agencies are often the ones to work with facility or utility managers when selling new systems, a key stakeholder in the integration of indoor positioning technology is the marketing and merchandising team. "It's a multi-touch sales process in which we have to discuss value in many different contexts," says Dan Ryan, vice president of product, IoT solutions at Acuity Brands. "Our core is energy-efficient LEDs and controls, but we have to tell that story side-by-side with the story about indoor positioning." Many use cases for VLC in the retail environment are still to be discovered, further delaying the conversation.
The richness of the data and the effectiveness of the service relies on shoppers not only choosing to opt in, but opting in even though it means giving up a degree of anonymity, particularly in the case of the location identification feature. Lighting manufacturers and retailers have responded to consumer privacy concerns by keeping VLC voluntary. For one, shoppers must not only have on their person a smartphone with the retailer app downloaded in order for VLC to track their movements, but the user also needs to hold the phone with the camera facing the overhead luminaires. That's all much more intentional than a Bluetooth beacon, which tracks customers by pinging the phone (held in hand or stowed in a pocket or purse) using a radio signal.
Current, Powered by GE's VLC-based apps allow shoppers to use the indoor navigation tools regardless of whether they give the app permission to collect their data. And Acuity Brands' ByteLight indoor positioning technology combines Bluetooth LE and VLC, allowing customers to benefit from in-store tracking, for which they must opt-in, even when the phone's screen and camera are not facing the luminaires. Such integration could make it easier for customers to use the technology, encouraging adoption. The company intends to provide retailers with mobile VLC software that can be integrated into their own apps. "With that, [retailers are] free to do whatever they want," Acuity's Ryan says. "They can build a couponing experience; they can build navigation experience."
Early Adopters and Applications
VLC is still an emerging technology, but early adopters are exploring its potential. One example is food retailer Aswaaq, based in the United Arab Emirates, who installed Philips' VLC lighting last year. The retailer is working with digital indoor mapping company Aisle411 to build its companion app—which will include a shopping list feature similar to Carrefour's—and plans to release it to the public at one of its locations this fall. The retailer then will assess customers' responses to VLC before deciding whether to roll it out to the rest of its locations.
Meanwhile, Current, Powered by GE, is putting together an "ecosystem" of software vendors, Patel says, who will contribute apps to the platform that their fixtures will use. One app, for example, will target clothing retailers to track inventory to determine if a dress shirt has been put on the wrong display rack.
In Carrefour's VLC pilot, the company's app was downloaded approximately 4,000 times. Shoppers received coupons—a decision based on survey data indicating that customers wanted promotions but had trouble finding them in-store. While Carrefour is still analyzing the data to determine whether or not to implement VLC in more locations, the company is also looking into other ways to use the technology. For starters, they've created a Web-enabled shopping cart that relies on VLC for location services and features a touch-screen interface to assist shoppers in finding products.
The potential for VLC extends beyond retail to include object-tracking in factories and warehouses, optimizing workflow in a healthcare environment, visual zoning or geo-fencing, and more applications in which there is LED overhead lighting and a workflow or process to optimize. "There are so many things that we are doing in different spaces," Patel says. "It's a very exciting technology and an exciting time." •