The organizational structure and focus of design firms, no matter the discipline, has not changed significantly over time. Core work centers on projects that generate fees and those fees are used to meet the demands associated with running a business. But one of the greatest challenges for those who work in design fields that require time for creative exploration is how to integrate that pursuit into a business model built around billable hours. Research, critical debate, and design and product competitions are but a few examples of things that fall into a gray area: These things are all important for exploring new ideas and exercising one's design muscles but they don't necessarily generate revenue.
Architecture firms have already started to explore how they can incorporate design research as part of a viable business model. One example is Lateral Office in Toronto. Established in 2003, the firm was formed around the premise of using "design as a research vehicle." Another example is Gehry Technologies. The AEC technology company, established in 2002, grew out of Frank Gehry's architectural practice and that firm's use of advanced 3D modeling platforms in their design work.
The idea that the parameters of design practice can expand beyond traditional structures is also starting to take hold among the next generation of lighting designers. These younger designers are actively seeking ways to broaden the type of work that they do. Two firms that are pushing the boundaries of what it means to be a 21st-century lighting design practice are Madrid, Spain–based Lighting Design Collective and Cambridge, Mass.–based Lam Partners. Each has developed a platform that allows room for academic-oriented discussions and design research to exist within the office, while at the same time contributing to the firm's design thinking.
Think-in-a-Tank
Think-in-a-Tank is an initiative started in 2014 by Tapio Rosenius of Lighting Design Collective (LDC) and his partners Kristian Krogh and Jari Vuorinen. With offices in Madrid, Helsinki, and London, the firm's design process has always involved an interdisciplinary approach and incorporated built and conceptual projects into its workstream. To find a way to bring these two seemingly different types of work together, along with the need for a more critical dialogue in lighting design which Rosenius felt was desperately missing, the trio started thinking: What if they could stage an event about the future of light? As the group started to develop a possible format, they asked urban sociologist Marco Bevolo, whose expertise lies in design thinking, to join the team, and he has served as the event moderator ever since.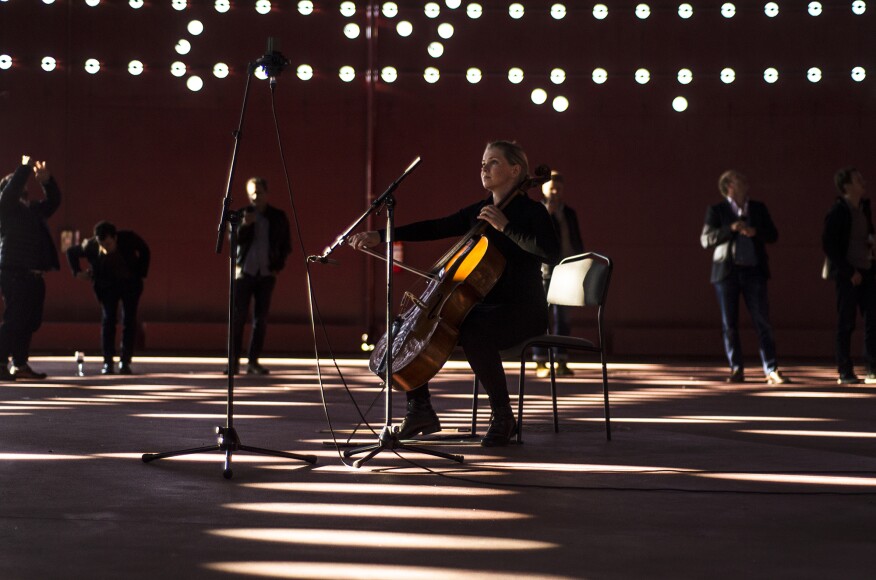 Rosenius and his colleagues were originally inspired by Brian Eno and Peter Schmidt's 1975 "Oblique Strategies," a set of printed index-size cards in a black box, each with a written phrase meant to help break an artist's creative block using lateral thinking—problem solving through a creative approach. For their program, LDC and Bevolo have created a matrix of 16 discussion topics (see Table below) that are used as a tool to foster discussion among the invited participants as they analyze their own work and examine how light might aid their creative process.
The Matrix
THINK-IN-A-TANK

DESIGN PROCESS
DIGITAL CONTENT
RESEARCH & DEVELOPMENT
LOCAL CONTEXT
DIVERSITY
UNORTHODOXY
Reframe the lighting experience as based on an unorthodox, formalized design process.
APPLICATIONS
Reframe the lighting experience as a flow of diverse and distinctive highly specialized digital applications.
SERENDIPITY
Reframe the lighting experience as based on a formal yet personal research approach, not necessarily one justified by academic theories.
CONTEXTUALISATION
Reframe the lighting experience by letting the socio-cultural context take the lead and determine the brief at the start of a structured process.
COMMITMENT
MODULARITY
Reframe the lighting design process as based on multidisciplinary, modular sequences of repeatable steps.
IMMERSION
Reframe the lighting experience as a seamless journey through one unified and pervasive digital ambient.
RADICALISM
Reframe the lighting experience as a radical research opportunity, combining different scientific and technical fields, no matter how distant.
CO-CREATION
Reframe the lighting experience as a co-creative dialog with all involved stakeholders, at every step of an open process.
PASSION
CONTRADICTION
Reframe the lighting experience process as a documented outcome of one off intuitive design decisions grounded in personal motives and preferences.
FREESTYLE
Reframe the lighting experience as a highly contradicting, yet personally inspiring mix of high / low, pop / art and personal / public digital touch-points.
EXPERIMENTALISM
Reframe the lighting experience according to the most out-of-the-box practices of whatever field of your personal interest, no matter how distant from design or lighting.
REVOLUTIONS
Reframe the lighting experience as a critical enabler of social innovation and cultural change for a better society, to the point of disruption with the status quo.
LEADERSHIP
RITUALISATION
Reframe the lighting experience as the outcome of your personal rituals, those everyday and unspoken paractices, translated into universal principles.
FOREFRONT
Reframe the lighting experience as software-driven process for advanced augmented reality beyond current 3D and ICT models.
NEXT
Reframe the lighting experience as the new leading framework of tomorrow's urban / interior design.
INFORMAL
Reframe the lighting experience from the point of view of informal leaders in the cultural context, to be identified and involved.
"We consider this event a milestone because we aim at gathering the next generation of design leaders and facilitate them in an informal setting to speak about the future in both professional and personal terms," Rosenius says. "The more critical thinking and conversation we can provoke, the better it is for the [lighting] industry as a whole, because we see that lighting design is radically changing, while the related industry seems slow or static."
The discussion sessions during the one-day event are held at Silo 468 in Helsinki, LDC's award-winning project that transformed an abandoned oil tank on the city's harbor into a public gathering space and permanent lighting installation. Participants are selected by Rosenius and his partners from individuals they think are influential in their fields. The first two meetings included mainly architects, but as the program continues, Rosenius is looking to the fields of digital design and start-up enterprises. These are the people who are "shaping the digital world, which is fast merging with the built environment and influencing the discipline of lighting design," he says. The goal of Think-in-a-Tank is nothing short of monumental: "We are looking for a paradigm shift in the role of light in the built environment," Rosenius says.
Lam Labs
Lam Labs is an initiative started by Cambridge, Mass.–based lighting design firm Lam Partners in April 2014. Its goal is to marry education and research with project work, drawing on the firm's areas of expertise like daylighting. The lab is led by Dan Weissman, who serves as its director. Weissman was looking for an outlet to combine his architecture and lighting work, having returned to Lam Partners after completing his second masters degree, a Master of Design Studies in Sustainable Design from the Harvard Graduate School of Design (GSD), and then working at Safdie Architects in Boston.
Adding to the progressive nature of the Lam Labs model is that the initiative has the complete backing of the firm's senior principals. "They've done a lot of these things over the years but have never had a way of coalescing it," Weissman says. "Theoretically, it allows the firm to do a much broader set of things, in the world and in our practice, than we would otherwise." Those activities include teaching classes on lighting and daylighting, which members of the office have been doing for decades at the Boston Architectural College. This year, Lam Partners' teaching reach extended to the GSD when Weissman taught a six-week daylighting seminar at his graduate school alma mater.
Under the structure of Lam Labs, firm members can propose a project for review. If accepted, the project then has to meet certain benchmarks in terms of time, resources, and budget to prove that it is viable. A new research project that is underway focuses on media displays. Weissman and designer Jack Risser have developed "a new workflow for rendering low- and medium-resolution media displays in visualizations." Next steps include validation of the prototype that the duo has built in Lam's Cambridge offices.
Given the firm's history, it's not surprising that Lam Partners has established something this progressive. "I'd actually trace the evolution of Lam Labs back to 1949 when Bill [Lam] set up Lam Workshop," says associate principal Jamie Perry. As the firm's website says: "Lam saw a critical need in the market for commercial-grade lighting products that would address the challenges of modern architectural design" and the workshop allowed him to explore those ideas. Building on that legacy, Perry says, is allowing Lam Partners "to redefine the role of a lighting design firm in the design community." •