The most prominent industry in Los Angeles—the film business—has long treated the city's yellow-hued streetlighting as more of a celebrated feature than a drawback. The chromatic conventions of Southern California settings in the color-film era include a distinctively sallow nocturnal glow that is now vanishing from direct experience. The late Dave Kendricken, a film technician and writer for the website No Film School, lamented this loss in a December 2014 post, "Why Hollywood Will Never Look the Same Again on Film: LEDs Hit the Streets of LA & NY," about a major LED streetlighting conversion program replacing a combination of high-pressure sodium (HPS, which makes up about 95 percent of the city's total streetlighting), metal halide, mercury vapor, and incandescent light sources. The switch to LED streetlights faces no real obstacles, as the advantages in energy and monetary savings, along with the reduction of maintenance costs, are substantial.
Leading the lighting charge of Los Angeles' decade-long effort to reduce energy consumption is Ed Ebrahimian, director of the city's Bureau of Street Lighting (BSL). Ebrahimian credits an iterative evaluation process with helping the BSL achieve ever higher performance from its vendors as lighting technologies have advanced. The scale of L.A.'s program, which is the nation's second-largest municipal streetlighting system after New York City's, has afforded the city substantial leverage in its discussions with lighting companies. "We did not commit to one manufacturer," he says. "We said what we'll do [is] six months of testing of whatever is available in the market, and we pick the two best manufacturers and obtain pricing from them, and then we go with the lowest pricing that we receive from them for the next six months. Then we start the six-month evaluation process again."
PROS AND CONS OF EARLY ADOPTION
After seven cycles of this process, which started in February 2009, he says, "The technology is at a point that, more or less, a lot of manufacturers are very close to each other. Six years ago, that wasn't the case. We challenged all the manufacturers." Ebrahimian and colleagues investigated a range of color temperatures, up to a bluish-white 6000K, before settling on 4000K that, at present and despite concerns about lighting quality from the lighting design community, has become a de facto national standard. It's the "closest to the color temperature of the moon at night," Ebrahimian says. The city's minimum requirements also include specs for remote monitoring units that feature GPS locators, reporting of energy usage and electrical faults, and coordination with dimmers.
The BSL program has approved a succession of LED luminaires that offer the equivalent of eight power categories of HPS lamps for both commercial and residential streets, from 70W equivalents to 400W-plus equivalents. Lamps that achieve a 100W-equivalent illuminance at a 35W power consumption, for example, have superseded lamps from a few years ago that took 52W to achieve the same light output.
As an early player in the global conversion to solid-state lighting, Ebrahimian says that one of the greatest challenges the city has faced has been the absence of national standards for LED fixtures. Throughout the process, the BSL has had the opportunity to see the latest, most advanced products and, by providing feedback, has helped those standards to evolve.
At the outset of L.A.'s conversion initiative, "We had some second thoughts," Ebrahimian recalls. "Should we start now, or should we wait for the technology to change or to stabilize? Which took about five to six years." The BSL opted to realize early cost savings, with the flexibility to adopt more-efficient equipment as it became available. Ebrahimian acknowledges that the timing of investments may differ for cities with smaller energy bills. "When you have a large system, I think any time you have an opportunity to change it to an efficient system is good. If you have a very small system, maybe it's best to wait."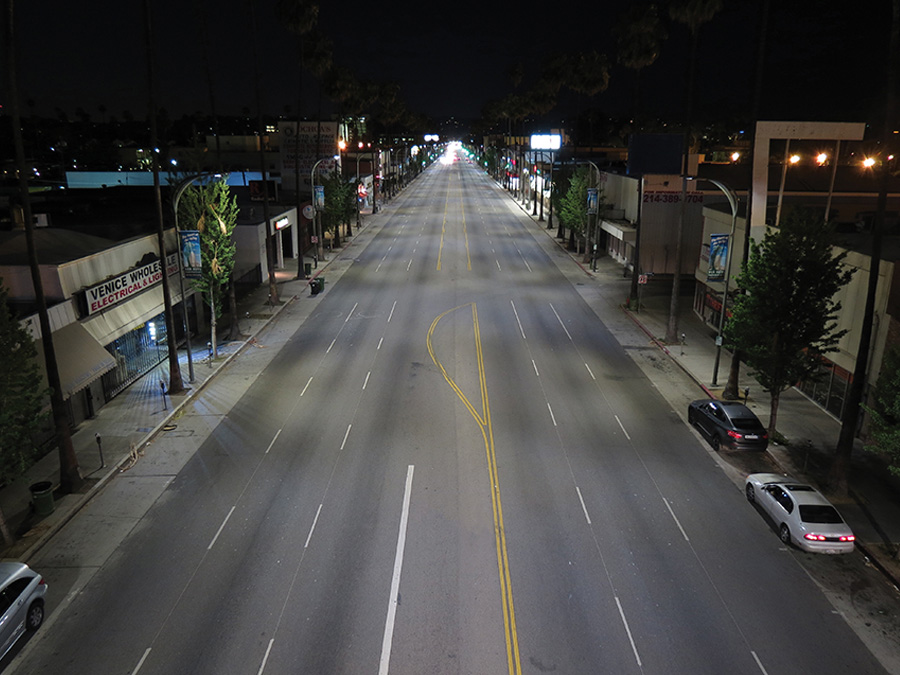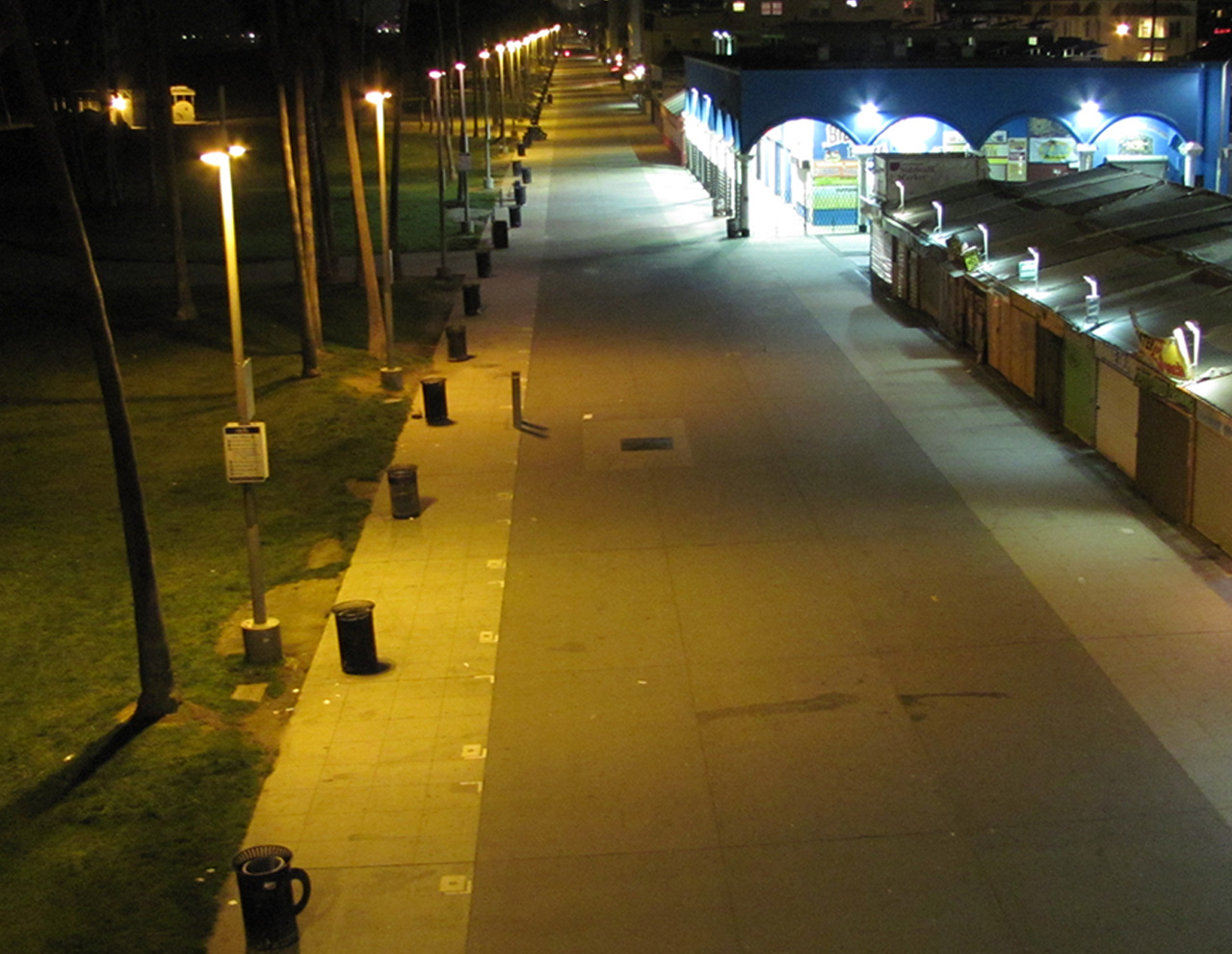 SOLID-STATE VALUE
As the BSL began the streetlighting conversion, it opted to install all-new LED fixture heads atop existing poles rather than upgrade new LED modules for use in older fixture heads as some manufacturers suggested. "Warranties are extra important," Ebrahimian notes. "Once you remove a fixture and install a new [one] … you start the warranty for that fixture that day, and the warranty stays intact up until the end of the warranty. If you put it [a new LED module] inside some other fixture, then all sorts of complications happen."
For new streetlighting installations, the BSL's directive is to specify only LED sources and fixtures. The impact on maintenance has been substantial. Repair-event counts dropped from 70,000 in 2008, before the program's rollout, to 46,300 in 2012. The new equipment has also reduced energy consumption by 60 percent, Ebrahimian says, and the lower power loads have eliminated longstanding problems with blown switches and fuses, so the program has not had to spend money replacing circuits underground. With the longer life of LED fixtures, once the system is fully deployed, the city expects to save $2.5 million each year.
As in Detroit, copper theft has become a serious problem for Los Angeles over the past decade coinciding with a rise in copper prices. Ebrahimian notes that the BSL has responded by hardening pole boxes with fiberglass composite lids and bolts that tighten in ways that are harder to break. He estimates that this approach has succeeded in 99 percent of the areas served. Since "once you harden one area, the problem basically moves to the other block," these gains have also worked in tandem with tighter law enforcement and a subsequent decline in copper prices. While positive public reactions to the quality of light are one success of the program, Ebrahimian points to police data on nocturnal street crimes such as vandalism, burglary, and vehicle theft as another. Even amid general national improvement in crime statistics, he says that the city has seen a decline of about 10 percent in these offenses between 2008 and 2014, from the times of 7 p.m. to 7 a.m., all of which points to a meaningful correlation with the improved lighting.
MULTIPURPOSE INFRASTRUCTURE
The BSL is also taking a leading position in reconceiving L.A.'s streetlights as network hubs. In November, mayor Eric Garcetti announced the deployment of 100 Philips SmartPoles, which combine LED lighting with Ericsson 4G/LTE nodes, providing network connectivity through fiber-linked small-cell technology. The SmartPoles, which use Philips' CityTouch lighting-asset-management system, gives the BSL automatic outage notification, remote control of lighting levels, and extensive data on energy use from the scale of a single light point to the level of a neighborhood or the entire city. (The Philips option is just one possibility; other manufacturers offer similar systems.) Furthermore, L.A.'s SmartPole program is indicative of the way that many municipalities partner with major lighting and technology companies: The city, with Philips and Ericsson, leases the system's bandwidth to mobile operators who install FCC-licensed wireless equipment in the poles, making the project self-funding. The city plans to add 500 more SmartPoles over the next four years.
San Jose, Calif., also recently announced a 50-SmartPole pilot program. If more cities follow suit, as many are, streetlights are poised to become a pivotal component of the ubiquitous communication environment known as the Internet of Things. With 5G connectivity on the way and cellular data traffic expected to grow nine-fold by 2020, according to the June 2015 Ericsson Mobility Report, cities that use SmartPoles or equivalent systems will be better prepared for an information-saturated future.
Appropriately, in a city known for being image-conscious, the BSL maintains online maps that help citizens track the progress of the LED streetlighting conversion program and includes before-and-after images that dramatize the contrast in the appearance of various L.A. locations from 2002 to 2012. The bureau also distributes the L.A. Lights app, allowing individuals to report lighting problems via their iPhone or Android device. The BSL's LED program won a Bright Idea Award from Harvard's John F. Kennedy School of Government in 2012, and its partnership with the Clinton Climate Initiative adds media visibility.
The L.A. program has not only exceeded Ebrahimian's expectations, but the L.A. city government's as well, and has helped municipalities and the lighting industry advance LED streetlighting developments in the U.S. Moreover, it offers a model of networked streetlights as a key component of tomorrow's "smart city": easier to maintain, easier to control, easier on the energy budget, and arguably—despite pockets of nostalgia for the sepia tones of the HPS lamp—easier on the eyes. •

DETAILS
Scale: Of the city's total 215,000 streetlights, which include more than 400 different styles, the original goal was the conversion of 140,000 streetlights, mainly focusing on the replacement of cobrahead-type fixtures.
Progress: 165,000 fixtures were converted from February 2009 to March 2016, and an estimated 7,500 new poles have been installed. The first phase was completed in June 2013; the second phase, currently underway, is retrofitting 70,000 decorative, historic-style streetlights.
Financing: $57 million program, supported by $40 million in financing from a loan by the LADWP and financed by Bank of America's "Green Bond," plus energy rebates and the city's Street Lighting Maintenance Assessment Fund.
Energy Savings: 60 percent reduction in energy consumption, equivalent to 60,000 tons of CO2; $8.8 million savings realized annually, compared with $15 million to $16 million annual pre-program costs; system is currently at 63 percent energy efficiency.
Equipment: Cree (Ledway, XSP2, and XSP2L series); Leotek (GreenCobra and Ecobra); Philips (StreetView, CityTouch, and Philips/Ericsson SmartPole); Philips Hadco; American Electric; GE Lighting's LightGrid outdoor wireless controller
Major Players: Bureau of Street Lighting, Los Angeles Department of Public Works; Los Angeles Department of Water and Power; Office of the Mayor, City of Los Angeles; Clinton Climate Initiative; C40 Cities Climate Leadership Group; Bank of America