The Illuminating Engineering Society New York City Section (IESNYC) presented the 2016 Lumen Awards at its 48th annual Lumen Gala held on June 16, 2065, in New York City. This year, the event drew a record-breaking attendance of nearly 900 guests from across the design and manufacturing sectors of the lighting industry. Awards were presented in three categories: The Lumen Award of Excellence, the highest level of recognition for permanent architectural application; the Lumen Award of Merit, in recognition for a meritorious permanent architectural application; and a Lumen Citation, in recognition for an art installation, technical detail, portion of a single project, temporary installation, or other work.
Overall the jury selected 14 projects to receive awards (the total number of entries was not disclosed.) Two projects were the recipients of Awards of Excellence, six projects with Awards of Merit, and six projects with Citations.
The complete list of project winners is as follows:
AWARDS OF EXCELLENCE
Project: Covington & Burling, Washington, D.C. (photo at top of article)
Lighting Designer: Fisher Marantz Stone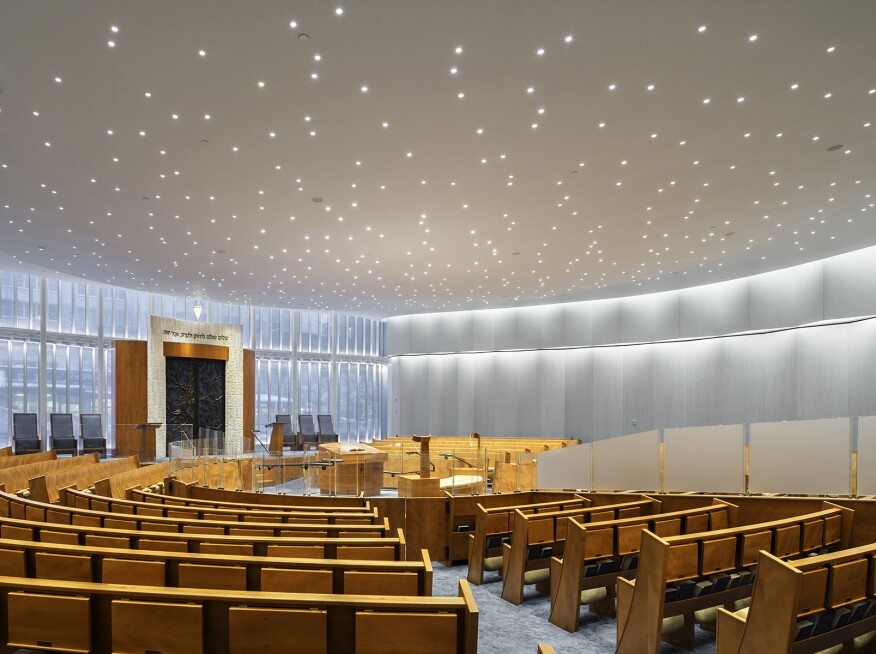 Project: Lincoln Square Synagogue, New York
Lighting Designer: Tillotson Design Associates

AWARDS OF MERIT
Project: 85 Broad Street Servery, New York
Lighting Designer: One Lux Studio
Project: The Broad, Los Angles
Lighting Designer: Tillotson Design Associates
Project: Grace Farms, New Canaan, Conn.
Lighting Designer: BuroHappold
Project: Hillman Hall, Washington University in St. Louis
Lighting Designer: BuroHappold
Project: Hyundai Services OnAir and Open Studio, Seoul, South Korea
Lighting Designer: KGM Architectural Lighting
Project: Korean War Veterans Memorial Bridge, Nashville, Tenn.
Lighting Designer: Domingo Gonzalez Associates
CITATIONS
Citation for Daylighting
Project: Corning Museum of Glass Contemporary Art and Design Wing, Corning, N.Y.
Lighting Designer: Arup
Citation for Skillful Illumination of a Historical Façade
Project: The Daryl Roth Theatre, New York
Lighting Designer: Cline Bettridge Bernstein Lighting Design
Citation for Historical Interpretation
Project: NBCUniversal Lobby and Mezzanine Restoration, New York
Lighting Designer: Cooley Monato Studio
Citation for Elegant and Restrained Restoration
Project: Terminal A at Ronald Regan Washington National Airport, Washington, D.C.
Lighting Designer: ICrave Lighting

Citation for Temporary Art Installation
Project: ROIL, Smack Mellon Gallery, Brooklyn, N.Y.
Artist: Christine Sciulli

Citation for Historical Restoration
Project: The Sherry-Netherland, New York
Lighting Designer: Orsman Design
The following people served as the 2016 Lumen Award jury: Melissa Goren, LC, PE, LEED AP BD+C, IES, studio manager, LightBox Studios, New York; Linda Lentz, senior editor, Architectural Record, New York; Enrique Peiniger, IALD, CLD, IES, founder and principal, Office for Visual Interaction, New York; Jennifer Sage, FAIA, LEED AP, principal Sage and Coombe Architects, New York; and Ken Ventry, IES, Assoc. IALD, principal, Reveal Design Group, New York.
"There has never been a more disruptive or demanding time since the advent of electric lighting," said Megan Carroll, LC, chair of the Lumen Committee and Xicato's director of sales, east said in a prepared statement. "Just a decade ago, the technologies that enable and empower this year's lighting applications were purely theoretical. Today's lighting is smoother, greener and much, much smarter. We honor designers who have wrestled with these new and challenging technologies. They have demonstrated skill, grace and true inspiration in realizing the art and science of modern lighting design."
Brian Belluomini, president of the IESNYC and a founder of Shimstone Studio noted, "One of the things we do as a Society and as the New York City Section is create the premiere lighting community that's dedicated to promoting the art and science of quality lighting. And one of the things I've always loved about the Lumen Awards Gala is that it really exemplifies and delivers on that concept."
In addition to the project awards the section also memorialized Past President Sonny Sonnenfeld and presented its service awards. The following members were recognized for their contributions:
IES Section Service Award: Adrienne Shulman, LC, specification regional sales manager in the northeast region for Eaton's Lighting Solutions. In recognition for her nine year's work on the Lumen Awards and the Lumen Gala.
IESNYC Brilliance Award: Frank Conti, CEO/founder of Enterprise Lighting Sales, New York. In recognition of his dedication and contribution to the New York City Lighting Community for 46 years. He has given his time, shared his wisdom, and financially supported the Section before, during, and after he served two times as Section president and for many years served as a member of the Board of Managers.
IESNYC Special Recognition Award: Jeff Hoenig, associate at Cline Bettridge Bernstein Lighting Design and co-chair of the IESNYC Education Committee. In recognition of or his distinguished service to the New York City Section. The Education Committee offers many opportunities via classes and workshops to sharpen the specification and design community's knowledge and skill, focusing on different technical and design aspects of architectural lighting, electrical engineering. His hard work and dedication allows us to maintain the very high standards for which our Section is known.
For more information about the Lumen Awards program go to the IESNYC website.