As part of Oklahoma City's revitalization efforts, SandRidge Energy—a growing, independent natural gas and oil company—relocated its suburban headquarters downtown. The company's corporate master plan encompasses several city blocks and a number of different buildings, one of which is a 30-story modernist office tower in the Brutalist architectural style, designed in 1971 by architect Pietro Belluschi. A new 4,600-square-foot canopy structure serves as the unifying element for the new campus, providing a sense of cohesiveness and a sense of place to the city's downtown urban fabric. Lighting consultant Renfro Design Group was asked to create a lighting scheme that would bring all of these elements together.
To light the façades of the Belluschi-designed office tower, Renfro's team positioned yoke-mounted 4000K LED exterior floodlights atop a nearby parking garage. With the aid of aiming studies and mock-ups, two fixture positions were established and three beam-spread distributions—8 degrees, 13 degrees, and 23 degrees—throw the light accordingly. This creates an even distribution for the full 393 feet of the building, and also highlights the three different window shapes of the building's upper, middle, and lower sections. The shadowing pattern, which is a result of the windows' deep and angular recesses, serves as the design cue for the canopy's triangular pattern.
Besides serving as a new focal point, the 34-foot-tall canopy also provides shade relief for the outdoor plaza during the extreme heat of Oklahoma City's summer months by using two layers of various density perforated metal. At night, the canopy structure is illuminated by 3000K integrated linear LED strips. Yoke-mounted halogen PAR38 downlights illuminate the plaza area below. Additional theatrical lighting is also in place when needed for events.
Along the sloping paths leading from sidewalk level to plaza level, 7-foot-long, 18-inch-tall custom linear 3000K LED fixtures line the planting borders and illuminate the 9-foot-wide paths. Within the planting beds, vertical lighting elements—a combination of MR16 and PAR30 narrow beam ceramic metal halide uplights—are set into pierced Cor-Ten steel pipes to light the trees and other large-scale foliage.
Existing buildings, new architecture, and lighting have joined forces to provide a civic identity for SandRidge Energy and Oklahoma City's revitalized downtown core.
Jury Comments
Masterful job of floodlighting; it highlights the Brutalist style of the building's architecture.
The patterning of light on the façade is skillfully translated to the canopy.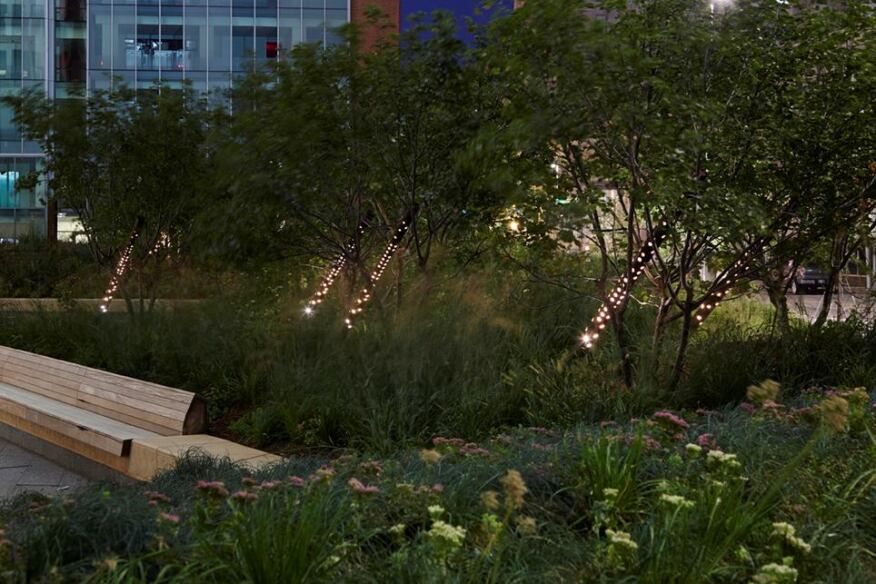 Details
Project SandRidge Commons, SandRidge Energy Headquarters, Landscape and Tower Lighting, Oklahoma City, Okla.
Entrant Renfro Design Group
Owner/Client SandRidge Energy, Oklahoma City, Okla.
Architect Rogers Partners (formerly Rogers Marvel Architects), New York
Lighting Designer Renfro Design Group, New York
Team Members Richard Renfro, Eileen Pierce, Lisa Wong, Fabio Tuchiya, Azusa Yabe
Photographer Timothy Hursley
Project Size 181,104 square feet
Project Cost Withheld
Lighting Costs Withheld
Watts per Square Foot 0.19
Code Compliance ASHRAE 2007
Manufacturers Acuity Brands/Winona Lighting, B-K Lighting, Philips Color Kinetics, Selux
To see all of the other winners of the 2014 AL Light & Architecture Design Awards, click herevaaztstrffwcduxcycbwauvxxzx.