The Memorial to the Victims of Violence in Mexico City plays the dual role of a memorial and a public space. Located in the Chapultepec Forest, the most important green space in the city, it was built to bring awareness to the violence that has occurred in Mexico as a result of political and social turmoil. The project is filled with nuanced meaning, from the space itself—15,000 square meters of reclaimed forest—to the use of a white-light color palette to distinguish between man-made and natural elements.
The memorial is a series of steel walls of different heights and widths, as well as different textures (rusted and reflective), all of which combine to create a landscape that contrasts with the natural surrounds. The spatial voids in between the constructed elements and the trees are meant to recall those that have been lost. Light helps visitors navigate, and overlaying the project grid is a subtle gradation of color temperature—from warm to cool (2500K at ground level, 3000K at eye level, and 4500K and 5000K at the tree canopy)—that leads the visitor's eye from the ground plane to the sky.
Recessed linear LED fixtures are positioned along the hardscaped walkways in a staggered pattern and create a visual guide made of light. At the center of the memorial, the ground plane changes from grass and earth to a series of reflecting pools. The edges of the steel walls throughout are illuminated by 30W, 3000K inground uplights. To emulate the warm-white color temperature of the light fixtures that highlight the ends of each wall, text on the horizontally oriented steel walls is applied with gold-colored paint. Light poles throughout the site backlight the tree canopies.
In this space, set aside to provide a place for contemplation and reflection for the victims' families and the community, the solemnity of the spot remains, day and night. Light—natural and electric—provides much more than practical illumination, it provides an unspoken language of healing.
Jury Comments
A powerful use of light to convey the message of the memorial.
A subtle play of white light and use of color temperature to delineate the different areas.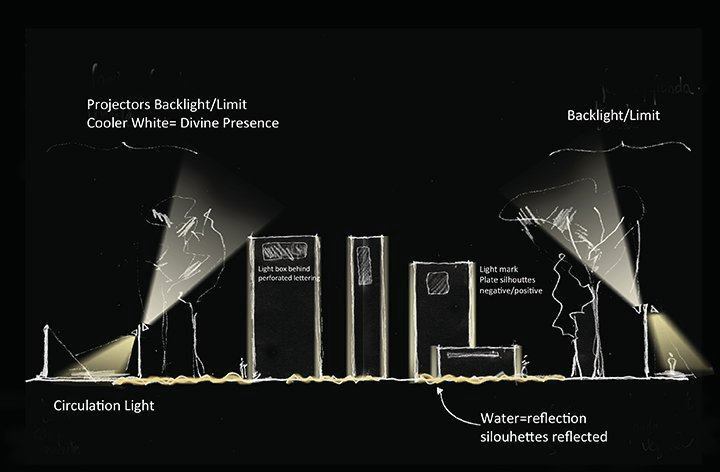 Details
Project Memorial to the Victims of Violence, Mexico City
Entrant Lighteam
Owner/Client Províctima, Mexico City
Architect Gaeta Springall Arquitectos, Mexico City
Lighting Designer Lighteam, Mexico City
Team Members Gustavo Aviles, Anna Sbokuo, Juan Carlos Martínez
Photographer Sandra Pereznieto
Project Size 15,000 square meters (161,458 square feet)
Project Cost $2,371,766
Lighting Costs $20,000
Watts per Square Foot 1.12
Code Compliance No energy code required in the project locale.
Manufacturers Network, Ventor
To see all of the other winners of the 2014 AL Light & Architecture Design Awards, click here.